[Product name] : Matrine
[Specs] : 98%
[Test Method]: HPLC
[Appearance] : White Powder
[Plant Origin] : Sophora flavescens Ait.
[CAS NO]. : 519-02-8
[Molecular Formula]: C15H24N2O
[Molecular Weight]: 248.36
The main ingredients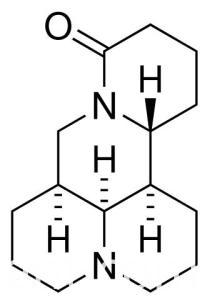 Main Function
1.Matrine, one of the main components extracted from Sophora flavescens, has displayed anti-cancer activity in several types of cancer cells in vitro.
2.Matrine possesses strong antitumor activities in vitro and in vivo. Inhibition of cell proliferation and induction of apoptosis are the likely mechanisms responsible for matrine's antitumor activities.
3.It promotes hair growth, possibly due to 5-alpha-reductase inhibitory activity.
4.It can reduce the toxicity and adverse effects caused by chemotherapy.
5.It is anti-inflammatory and an antioxidant.
Product Categories : Natural Active Monomer