Kaempferol
Structural Formula: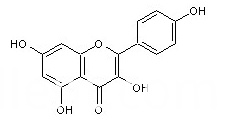 CAS#:520-18-3

Specifications:98%

Assay Method:HPLC

Herb Sourse:From roots of Kaempferia galanga L.

Molecular Weight & Molecular Formula:C15H10O6;286.23

Melting Point & Solubility: mp276℃-278℃,also reported as light yellow powder from ethanol-water, mp278-280℃(dec). Slightly soluble in water, soluble in hot alcohol, ether and alkalies.


Brief:Yellow needle, belongs to the flavonol.


Pharmacology:Anti-cancer, anti-epilepsy, Anti-inflammation, Antioxidant, antispasmodic, anthelone, AntiulcerCholeretic , diuretic activity and relieving cough.
Product Categories : Natural Active Monomer